Winter Sports Week 2023!
From January 16th to the 20th, CNHS celebrated its 2023 Winter Sports Week. Two
weeks after Christmas Break, Winter Sports Week hyped up students once more for the
semester, and recognized the teams playing this season. The week was introduced with
a relaxing day off on Martin Luther King Day, creating a three day weekend, much to
many students' appreciation. Each day of the week, a theme was designed for students
to dress up and come to school.
For Tuesday, students were instructed to follow the "Salad Dressing" event. The
grades were divided up into sub-themes based off different types of salad dressings.
Seniors, Juniors, Sophomores, and Freshmen were assigned Caesar, Ranch,
Thousand Island, and House Dressing, respectively. Seniors who participated donned
togas and laurel crowns, with sweaters and/or undershirts to accommodate for the chilly
weather and to avoid the traditional shirtless toga fashion design. Juniors who
participated sported flannels, jeans, and hats to show off their country attire.
Sophomores, meanwhile, arrived in tropical style with Hawaiian shirts and leis. Finally,
freshmen arrived in the school colors.
On Wednesday, all students were allowed to dress as movie characters. Students
combined uniform bottoms or jeans with assorted shirts, jackets and accessories to
create the iconic looks of various box office heroes, villains, and those in between.
Thursday was Multiplicity Day, where students were encouraged to arrive wearing
identical outfits with as many other students as possible. Finally, Friday was USA day,
where students would wear red, white and blue to show some American spirit.
The finale of the week was the Friday afternoon Pep Rally. With the DJ blasting
music and the mascot Crusader making an appearance once more, students filed into
the bleachers divided by grade. After bouncing around inflated beach balls for a short
time, the emcees introduced the cheerleaders and the other sports teams for the
season. Then, the grades organized and volunteers formed teams to compete in grade
vs. grade basketball. First, Juniors beat the Freshmen, and the Seniors beat the
Sophomores despite an impressive dunk in the close late game. The Juniors went up
against the Seniors, but the Seniors took the victory crown this time around. Overall, it is
a welcome sight to see school activities return in full strength once more.
About the Contributor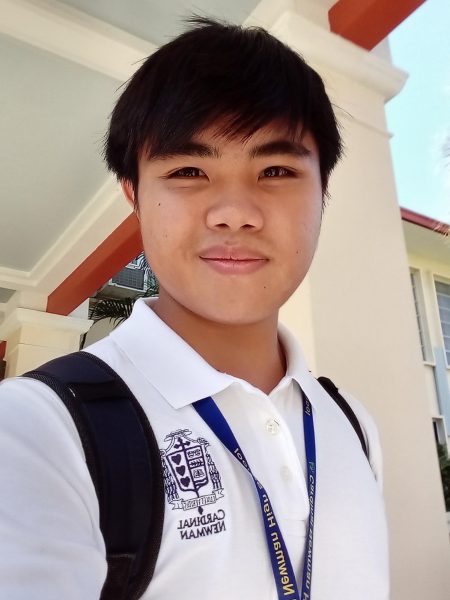 Nathaniel Gonzales, Staff Writer
Nathaniel Gonzales is a senior at Cardinal Newman and frequently attends Mary Immaculate Church. He is the current president of Mass Ensemble and co-president...