St. Blaise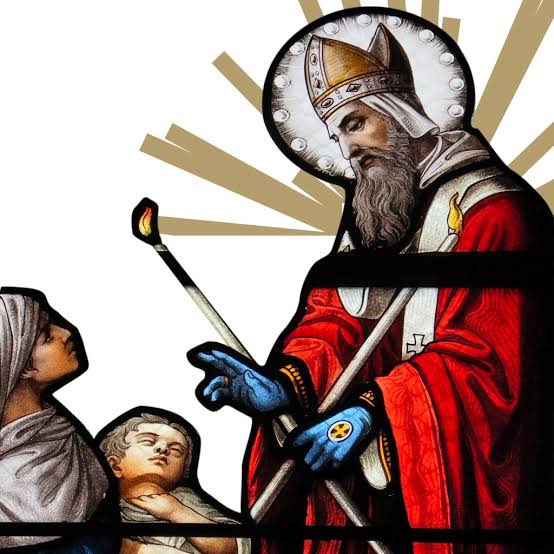 While February is mainly known for Valentine's Day, and even other popular events such
as the Big Game, this month also holds the feast day of Saint Blaise, one of the more popular Saints throughout the Church. Though his presence isn't acknowledged to any non-Christians or non-Catholics, the past that he holds shows why the church dedicates a special day for him compared to other, more popular saints.
Saint Blaise, most known for being the patron saint of the throat/throat illnesses is also
the patron saint of animals, wool combers, and wool trading. Though his date of birth is unknown, his feast day is February 3, and the date of his death is estimated to be around 316. From what has been discovered, Blaise is said to have been the Bishop of Sebastea and a doctor with a known reputation of multiple healings. With this, he was proclaimed by others to be a "physician of souls", and even after his retirement many still flocked to him for healing miracles. Despite information unfamiliar to many about Blaise and his life, his most popular healing is commonly known as the healing of the throat. One of the most popular cases happened during the time where Blaise was captured in the year 316, and thrown in prison to await his execution. This is due to the fact that though people were free to worship God in the Roman Empire, the threat of persecution still lingered, with Saint Blaise unfortunately having to deal with its consequences. Despite being in prison, however, legends state that while he was in his cell Blaise helped a mother with a fish bone lodged in her child's throat. It is said that under his command the child was able to cough up the bone. Whether the legend is true or not, this event sparked the beginning of Saint Blaise's acclaim for the rest of history, even after execution.
With such a miraculous event and story being spread throughout the people like wildfire, Saint Blaise secured himself a legacy for eternity. Even with the history of most of his early life being lost to time, the legend under Blaise's name still remains present in the church today, where his
feast day is celebrated by a special mass being held in which priests across the world continue his work by holding two candles in a cross position, touching the throats of the people, and giving them a special blessing in honor of Blaise's name.
About the Contributor
Siam Alisetti, Staff Writer


Siam Alisetti is a current Junior (11th grade) at Cardinal Newman. She is in a few other clubs than Blue and Gold such as Green Club, Key Club and...