Lionel Messi: The Path To World Cup Glory
Every four years, the world comes together for one of the most prestigious soccer
tournaments known as the World Cup. In what was the fifth of his career, Lionel Messi seeked one thing and one thing only: a victory.
At the club level, Messi has shattered records. He has the most assists ever at 320 and 695 goals, currently only behind Ronaldo by a margin of 6. While at Barcelona for 17 years, Messi won 35 trophies, and during his two years at Paris-Saint-Germain he has won two. Internationally, an Argentina-backed Messi won the 2021 Copa America and 2022 CONMEBOL UEFA Cup of Champions. Despite these great achievements, the elusive World Cup never came into Messi's grasp until his fifth World Cup appearance.
Messi made appearances in four different World Cups prior to 2022. In 2006 and 2010, Argentina lost both in the quarter finals against Germany. In 2014, Argentina qualified into the finals once again facing Germany, which Germany won 1-0. In 2018, Argentina would lose 4-3 in the Round of 16 against France, the eventual champions. All of these losses would lead to Messi's final World Cup in Qatar, which would ultimately determine not only his international prominence, but also his overall greatness as a player.
Argentina's opening match of the 2022 tournament raised major concerns for the squad, as they lost 2-1 to a Saudi Arabian team who has only made it to the round of 16 once out of only six World Cup appearances. Argentina would bounce back with two 2-0 victories against Mexico and Poland, granting them the number one spot in their group. Past the group stage in the Round of 16, Argentina secured a 2-1 win versus Australia, advancing them to the quarterfinals. Facing a tough Netherlands side, Messi stepped up and took one penalty in regulation, which proved
vital because Netherlands went on to score two goals and tie the game 2-2. Following a goalless extra time, Messi would make another penalty and advance Argentina to the semifinals.
Facing Croatia in the semifinals, Messi was first on the scoresheet with a penalty goal, and he later assisted teammate Julian Alverez's second goal in what was a 3-0 victory that brought Messi his second World Cup final. On December 18, 2022, Messi took the World Cup final stage again, but this time it was against France, the defending champions. Messi would score off a penalty in the 23rd minute to establish a 1-0 lead, and teammate Ángel Di-Maria would add to the tally thirteen minutes later to give a 2-0 lead. All hope seemed lost for France until the 80th minute, where France's Kylian Mbappé would score two goals in rapid succession to tie the game 2-2 and send it to extra time. Messi scored another goal in the 108th minute only for Mbappé to answer ten minutes later, ending the game 3-3 and sending it to penalties. Both goal scorers would step up and make their respective penalties for their countries, but France would fall short, ending the shootout 4-2 and giving Argentina their third World Cup trophy and, more importantly, Messi his first.
With seven goals and three assists at the 2022 World Cup, Messi broke 10 records and was dubbed the tournament's MVP. With this international win, Messi further solidified himself on the Mount Rushmore of soccer players as one of (if not) the best to ever play the game.
About the Contributor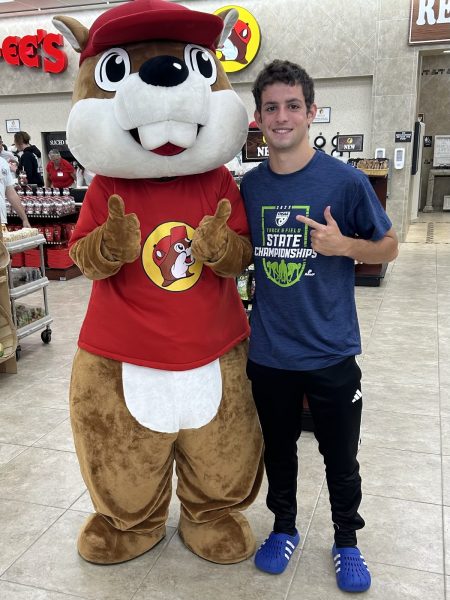 Lucas Hernandez-Trujillo, Sports Editor
Lucas Hernandez-Trujillo is currently a junior at Cardinal Newman High School. Hernandez is a well-rounded achiever, participating in cross country, soccer,...