The Old Man and the Sea Book Review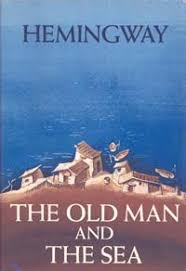 "Now is no time to think of what you do not have. Think of what you can do with what there is." -Ernest Hemingway, The Old Man and the Sea
The Old Man and the Sea is a book written by Ernest Hemingway in 1952. It is about an old man named Santiago and his long fight against a marlin off the coast of Cuba. The story begins with a conversation with the old man and a young boy named Manolin. Santiago has not caught a fish in 84 days, but Manolin still has faith in him. Santiago sets out the next day to finally catch a fish. In an effort to be precise, he sets multiple lines out at a certain distance. Santiago believes that being exact is better than being lucky when it comes to fishing. Soon, he snags an incredibly large marlin that drags his skiff farther and farther away from land. Santiago stays with the marlin, unwilling to let it go. As time goes on, he develops a respect for the marlin's strength, and he considers the fish as his brother because they are both struggling. He becomes slightly reluctant to kill the fish, but he believes that there can only be one winner to the battle. While out at sea, Santiago's left hand cramps and he becomes angry at himself for his weakness. Santiago remembers his baseball idol, Joe DiMaggio, who managed to play baseball with a bone spur, and that helps him overcome his physical problems. At night, he dreams of the lions of Africa that remind him of his childhood. Eventually, Santiago manages to drive a spear into the heart of the marlin, killing it. The fish is a couple of feet bigger than his skiff, so he pulls it behind him. Not long after, sharks attack the marlin. Santiago struggles to defend himself and his kill using his oars, the tiller, and finally a knife. Ultimately, he cannot compete with the predators and he loses almost all of the marlin. He makes it back home with just the carcass of the fish and the other villagers discover it on the beach while he is sleeping. Santiago tells his story to Manolin and promises to teach him more about fishing.
I read the Old Man and the Sea for my English Honors class and I have mixed feelings about it. The beginning was a little slow for me. There was a lot of time spent on setting up the premise of the story. I believe the author, Ernest Hemingway, did a fantastic job of developing the characters in just the first few pages of the book. The old man and the boy were described in a way that made them seem very human and real. Santiago lived in a rundown house by himself. In the book, it says there once had been "a tinted photo of his wife on the wall but he had taken it down because it made him too lonely to see it." Everything about Santiago was old except for his eyes that "were the same color as the sea and they were cheerful and undefeated." Already, this clearly displays who Santiago is and how his history affect his actions. The young boy, Manolin, looks up to and almost idolizes the old man. He keeps faith in Santiago, and still believes he can catch a fish even though he has not for 84 days. Manolin is shown to be very kind and he does what he can to help out the old man. On page 21, Hemingway writes, "I must have water here for him, the boy thought, and soap and a good towel. Why am I so thoughtless? I must get him another shirt and a jacket for the winter and some sort of shoes and another blanket." This line alone shows how kind and thoughtful Manolin is. He truly cares deeply for the old man.
More than half of the novel was set out at sea with Santiago and his Marlin. Santiago mainly sat in the boat talking to himself and to the marlin. This part of the novel was rather dry and hard to get through. Despite the dry story, Hemingway significantly develops Santiago's character; however, a whole book spent on character development but no story becomes dry and uninteresting. A well developed character has so much potential, but something interesting has to be done with that character. This section of the book shows that Santiago is resilient, and that he is willing to go to great distances to get what he wants. But is the reader as resilient as Santiago when it comes to staying with his journey? I'm not usually one to give up on a book, and I usually try to power through now matter how monotonous it is; however, for this book, I probably would have stopped if I was not required to read it for school.
The part where the story finally gains some action is near the end. Santiago successfully kills the fish (which, in all honesty, was not a surprise at all) and proceeds to tow it back home. On his way back, he is attacked by sharks. I found this part exciting, but it seemed slightly unrealistic how an old man could fight off dozens of sharks. I had to expand my realities a bit for this part, but I have to say that it was moderately interesting. This was probably the best part of the book.
When Santiago returned home with just the remains of the fish, I thought that Hemingway provided a bittersweet ending. That whole fight seemingly brought no profit. However, I believe the book was focused on the perseverance of Santiago and his respect for the marlin and for the sea rather than whether he caught the fish or not. I recognize that I may have missed Hemingway's point in the middle stages of the novel when Santiago was waiting to catch the marlin. I was so focused on the final outcome of killing the fish that I missed the depth of Santiago's personal journey and internal development.
With that being said, the ending left me unsatisfied. I felt that there had to be more to this book. I expected that there was some kind of hidden or symbolic meaning, and I was left with many questions. Why did Santiago constantly dream of lions? Why was 85 days lucky? Why did Santiago keep wishing for the boy when he told him not to come along? What was the importance of calling the sea "la mar" instead of "el mar"? While I was reading, I tried to answer these questions, hoping that they would be addressed later. I was disappointed when nothing surfaced.
I did some research online after reading, and it seemed like I was not the only one who expected more from the novel. I read lots of complicated analyses about the book, and my feelings about the book changed. I thought that it had to be thoughtfully planned out to include all of these hidden messages. I was slightly disappointed when I found out that Hemingway did not plan any of it out. The book was intended to be taken literally and the book was simply about an old man going fishing. I would have enjoyed the book more if it was intended to have the symbolic meaning and was not simply about a man going fishing. Anyone can write a book about fishing, but adding hidden meanings and symbolism is much more difficult; however, my brother Martin Gonzales enjoyed the book more because it was straight to the point and not metaphorical. I believe that enjoyment of The Old Man and the Sea depends on the point of view of the reader. Some students prefer books with deeper meanings while others like things plain and simple. I also learned that people can interpret different meanings from the same piece of literature. The author's opinion on their work may or may not influence those who read it.
About the Writer
Isabel Gonzales, Opinion Editor
Isabel Gonzales is a current junior at Cardinal Newman High School. She attends Mary Immaculate Catholic Church. Gonzales plays the flute as part of the...