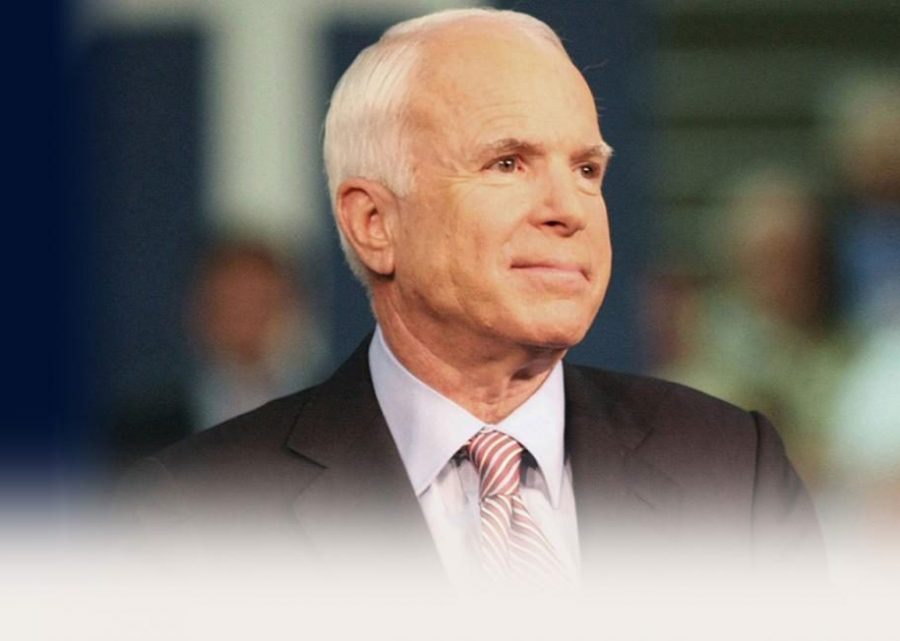 Senator John Sidney McCain III died at his ranch near Sedona, Arizona, on August 25, 2018. He was 81. Senator McCain's survivors include his wife, mother (age 106), brother, sister, seven children, and five grandchildren. He had been routinely treated with radiation and chemotherapy for a brain tumor known as glioblastoma, a cancer he had been battling since its discovery in 2017. As a son and grandson of four-star admirals who were his heroes, Senator McCain established an impressive leadership record by dedicating his life to service.
After completing high school, John McCain decided to follow the footsteps of his father and grandfather by entering the United States Naval Academy in Annapolis, MD Ensign McCain learned to fly attack jets at the Naval Air Station in Pensacola, FL.
John McCain wrote six books, all with themes of courage. Ensign McCain was the true embodiment of courage: a war hero broken in body, but not in spirit. While in the Navy, Ensign McCain was shot down over Hanoi and was imprisoned by the Viet Cong. Since his father was the commander of all American forces in the Pacific, McCain became the most famous prisoner of war in Vietnam. Ensign McCain rejected early release in order to maintain his honor, avoid creating enemy propaganda, and to ensure that his fellow prisoners did not lose hope. After undergoing regular beatings and solitary confinement for two years, Ensign McCain returned home permanently disabled, suffering from broken arms and a shattered leg.
After months of rehabilitation, Ensign McCain became the Navy's Senate liaison, a position his father had once held. His future in the Navy was limited by his physical disabilities. With his mother's encouragement, Ensign McCain retired as a navy captain in 1981, to begin his political career.
John McCain served two terms in the House of Representatives, from 1983 to 1987, and six terms in the Senate. Although initially a Reagan Republican, Senator McCain became a maverick who shocked his party's leaders by compromising with Democrats.
He ran for president twice, losing to George W. Bush in 2000 and Barack Obama in 2008.
"Few of us have been tested the way John once was, or required to show the kind of courage that he did," Barack Obama said during Senator McCain's funeral on September first. "But all of us can aspire to the courage to put the greater good above our own. At John's best, he showed us what that means."
Skylar Hines, a junior at Cardinal Newman, said:
"I will remember Senator John McCain for his courageous service. He withstood immense physical and emotional suffering in the Hanoi Hilton for five years during the Vietnam War and refused when he was offered the chance to go free because he would not leave until the soldiers who were captured before him were freed. Then, when he returned home, he continued to dedicate his life to his country as a politician. I admire his willingness to place his country over party—he did what he believed was right even if his party disagreed with him. I admire his honesty too. He was willing to own up to his mistakes."
Skylar Hines additionally said, "I think Senator McCain's most important life lesson for young people today is resilience. He refused to let his experiences in Vietnam destroy him—instead he grew stronger and committed himself to continue serving his country. He did what he thought was right even if it was not popular and admitted his mistakes. Both earned him sharp criticism at times, but he persisted."
Senator McCain's service, duty, honor, sacrifice, and love for his country will not be forgotten.